Fusion Homes and the Children's Foundation proudly announce a significant effort aimed at providing essential food security to families in our community this holiday season.
In light of rising food costs and continued financial challenges for many families, Fusion Homes is generously donating $60,000 to the Children's Foundation's Adopt-A-Family program. This gift will contribute significantly to providing grocery gift cards for 600 families throughout Guelph and Wellington who are referred to the holiday program. This support empowers families to choose the groceries they need not only for holiday celebrations, but also for their day-to-day food requirements.
Fusion Homes is more than a homebuilder; they believe their role in the journey extends well-beyond selling and building. They not only go above and beyond for their home buyers, but they also demonstrate a deep commitment to the communities they call home. Fusion Homes has been long-time supporters of the Adopt-A-Family program, matching and shopping for families each holiday season.
Lee Piccoli, Founder and Chief Executive Officer of Fusion Homes, shared his thoughts on the partnership, saying, "It's our pleasure to contribute to the Adopt-A-Family program through the Children's Foundation. Knowing that this donation will make a difference in the lives of families during the holidays is truly heartwarming. It's an honour to be part of a community that comes together to support one another, and I'm humbled to play a small role in it."
Karyn Kirkwood, Executive Director of the Children's Foundation, expressed the organization's deep appreciation for Fusion Homes' support, saying, "We are profoundly grateful for Fusion Homes' commitment to our community. This collaboration embodies the spirit of unity and compassion as we come together to make the holiday season brighter for kids and their families. With over 1,500 families referred to the program last year, meeting the demand was a challenge. Fusion Homes' remarkable gift is truly inspiring, and their generosity will bring hope and joy home for the holidays for hundreds of families."
The Adopt-A-Family program matches families referred by social agencies with donors who shop for holiday gifts for children and youth and provide grocery gift cards. While Adopt-A-Family started out as a Christmas holiday program, it is open to families of all backgrounds and traditions.
With daily referrals and the ongoing demand of emergency referrals right up until the holiday break, the Adopt-A-Family program relies on the community's collective effort to wrap around all these families to bring them comfort, relief, a sense of belonging, and the gifts of happiness and hope that children so desperately need to thrive.
Currently, there are over 400 families waiting to be matched for holiday support. To learn more about the program and how to become a donor, please visit the Children's Foundation website at www.childrensfoundation.org or call 519-826-9551 x 136.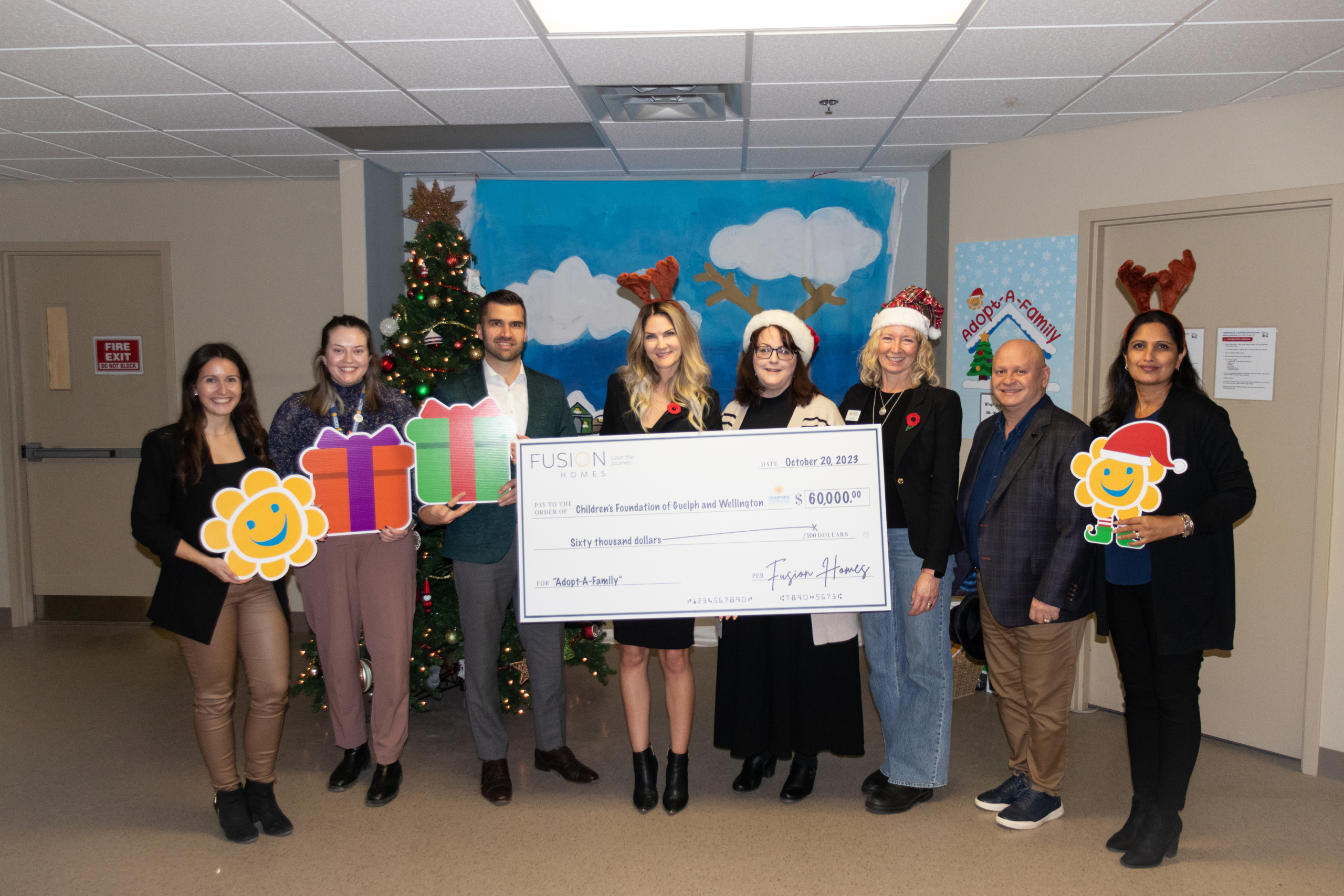 About the Children's Foundation:
The Children's Foundation is a local charitable organization passionately committed to enhancing the well-being of children and youth by connecting them to experiences and supports that contribute to their sense of belonging and help them to reach their full potential. They support the well-being of children and youth through food security, mental health support, access to recreation and life-skill activities, educational support, and holiday help. The Children's Foundation believes in a community where every child and youth has the opportunity to participate, learn, and grow to build a brighter future.
About Fusion Homes:
Fusion Homes is a homebuilder dedicated to guiding customers through their Home Buying Journey. Fusion Homes believes their role in the journey extends well-beyond selling and building. They curate and guide customers through the Home Buying Journey ensuring all steps are clearly laid out, that stressful moments are removed and that the journey is truly unique and personal for every buyer. Established in 1999 by Lee Piccoli, thousands of families now live in Fusion-built homes across Southwestern Ontario. Fusion Homes' commitment to their customers and employees is exemplified by receiving an unprecedented six Tarion Awards of Customer Satisfaction, ranking in the top Most Inspiring Workplaces in North American 2023, and being awarded one of Kincentric Canada's Best Employers two years in a row, in 2022 & 2023. Fusion Homes promises to help every customer love the journey. For more information, visit fusionhomes.com.
FOR MORE INFORMATION, CONTACT:
Children's Foundation of Guelph and Wellington
Karyn Kirkwood
Executive Director
519-826-9551 ext. 128
Fusion Homes
Sarah Faria
Associate Marketing Manager
sfaria@fusionhomes.com
519-826-6700 ext. 227